Campsites in dans les Alpes-de-Haute-Provence
tourist city, city ​​to discover for its restaurants and campgrounds or Digne-les-Bains, you will enjoy your camping trip to the department 04, Alpes-de-Haute-Provence. Camping and co offer you perfectly located campsites with comfortable accommodation and top services, including swimming pool, mini-golf, water park, riding school, well-being area, children's club... Come with friends and family and experience outdoor life with Camping and co. Enjoy relaxation in Alpes-de-Haute-Provence to the full.
Alpes-de-Haute-Provence: We recommend 1 campsite
Hide the map
×
View on map
Search in progress
Camping-and-co.com :
Easy online booking
Quality accommodation on great campsites
Credit card and paypal
France > PACA > Alpes-de-Haute-Provence > Forcalquier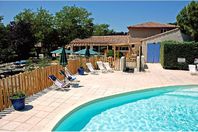 Location: In the countryside
We like: The children's workshops , The swimming pool and 400m² terrace
Services and activities: Swimming pool, Entertainment, Kids club, Supermarket / Grocery, Bar...
Come and bathe in the sun of the Provence-Alpes-Côte d'Azur region and stay at the Indigo Forcalquier campsite. The grounds extend over 3.7 hectares of green fields. It is situated 8 km from...
More pictures
View on map