Book
your camping holiday
on over 1 000 holiday parks
Our commitments:
A selection of top quality campsites

Secured payment system

Payment in 3 instalments free of charge

Advisers at your service before, during and after your stay

More than 120 000 customers have already trusted us
Info and booking
02 0380 85378
not surcharged call
Monday to Friday, 9:00am to 12pm and 1:00pm to 5:00pm
Campsites in the South of France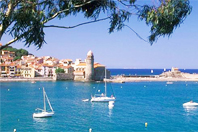 Our campsite experts have worked with customer reviews and actual holidaymakers to put together their selection of the best campsites in the South of France, to help you choose the right campsite quickly, easily and with complete confidence.

Campsite rentals in the South of France

The South of France, especially the Languedoc-Roussillon and Provence Côte d'Azur regions, have a real culture of open-air hospitality.  Thanks to its warm climate, sun, beaches and countryside, the South of France has all the essential requirements needed to satisfy holidaymakers or anyone who enjoys staying in a mobile home, chalet, or cottage.
To help you narrow down your search for a campsite rental in the South of France, it's worth knowing that the Languedoc region is made up of five départements: Aude, Gard, Hérault, Lozère, and Pyrénées Orientales while the Provence Alpes Côte d'Azur region is made up of Var, Bouches du Rhône, Alpes Maritimes, Vaucluse, Alpes de Haute-Provence and Hautes-Alpes.
During your holidays, you'll also have the option of exploring Spain, which borders the southern part of Languedoc Roussillon. This provides an opportunity to discover a different culture and language while taking advantage of price differences to buy products that are less highly taxed when you cross the French border.
In addition to the départements that make up the region, the South of France is most famous for its many beaches.  Some of them are aimed at families, while others feature water sports. No matter what, most of them are perfect sandy beaches for a coastal holiday.
The region features many outstanding coastal resorts, and we have selected some of the best to help you choose your campsite rental in the South of France:
Out of all the towns and cities in France, Argelès sur Mer has more campsites than any other.  In fact, that's not such a surprise when you consider its long and fine sandy beach, the views of the nearby mountains of the Pyrenees, and the atmosphere in the shopping streets, all of which make Argelès sur Mer an essential destination for your holiday in southern France.  Groups of younger travellers and families in particular should not think twice before opting for a campsite in this lively town.
Fréjus is an exceptional seaside resort, with a seven-kilometre beach made up of white sand that extends from Saint-Aygulf to Saint-Raphaël.
Whether you spend time in Fréjus as a family or with friends to make the most of your holidays, in spring or summer, the warmth of the South of France will win you over, no matter how long you spend there.
this small coastal resort in the Languedoc is aimed mainly at families, while the small fishing port makes it the ideal spot for a peaceful holiday.  Less built up than is neighbour, La Grande Motte, the town of Grau du Roi mainly hosts families who come to enjoy its peaceful beaches.  Ideal for children while offering a relaxing holiday destination for parents.
As you explore the region, you'll also discover other resorts such as Le Muy, Valras, Torreilles, and Vias but with Fréjus, Argelès and Grau du Roi, you already know about three of the best seaside resorts in the South of France with a wide range of high-quality campsites to suit all budgets.
Our selection of campsites in the South of France
To help narrow down your search of the hundreds of campsites that are located all over the region, we've chosen to share our selection of campsites in the South of France with you.
When choosing which campsites to include, we looked at many customer review websites, price comparison sites, and the campsites' own websites to offer a selection of what we think are the best 4 and 5 star campsites in the South of France as well as three-star campsites in southern France.
By choosing one of the campsites we've selected, you'll be able to rent a mobile home or static caravan that combines high standards of quality with affordable prices.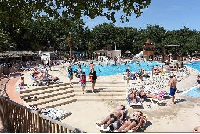 This site really stands out among all those in the South of France; it's even a five-star campsite located in Argelès-sur-mer, which is one of the region's most lively destinations.
Le Bois Fleuri is, in our view, truly one of the best campsites in du Languedoc Roussillon, so if you're on a budget yet still want to make the most of your holiday, book your holiday campsite rental at Le Bois Fleuri without a second thought!
Le Bois Fleuri features a heated swimming pool, a children's club and a shuttle that takes you to and from the beach.  Because of its five-star facilities and all it has to offer, it does require a certain level of expenditure – but it remains in high demand, as you would expect when you consider the standard of the facilities and the service.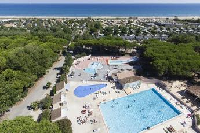 This campsite in the South of France is in Sète, in the Hérault département, with Montpellier being the largest town in the area.  The four-star Le Castellas campsite is a favourite among holidaymakers with direct beach access and a wide range of facilities for children, teenagers and adults.  In short, it's the perfect location for a family camping holiday.  Le Castellas also has a vast water park (with a swimming pool of course) as well as several waterslides that will delight young and old alike.
The campsite is fifteen kilometres from Sète and 39 kilometres from Montpellier, which is the capital of the Languedoc-Roussillon region.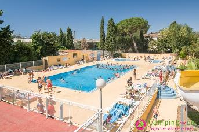 As well as traditional destinations in Languedoc-Roussillon and elsewhere, we also highly rate Cap d'Agde, and Les 7 Fonts campsite in particular, and have included it in our selection of the best campsites in the South of France.  This campsite provides a free shuttle to the beach at Cap D'Agde, which is five kilometres away.
With a particular focus on your comfort and overall wellbeing, Les 7 Fonts features water flumes that children will love during their hot, sunny days on holiday.  The campsite is rated as a three star site, but it represents an excellent blend of high quality with low prices, and is regularly cited as one of the best campsites of its kind in the region.  Montpellier is just 40 kilometres from the campsite, which should allow you to plan for a visit to the capital of the Languedoc region to discover the local culinary specialities as well as the famous square at Place de la Comédie.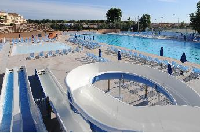 Yes, it is possible to stay at a campsite in the South of France with an Olympic sized swimming pool, as long as you choose the Elysées Campsite in Grau du Roi.
In fact, the site not only offers that Olympic swimming pool, but also a number of waterslides and children's play areas: in short, an excellent campsite with lots of activities and particularly the facilities you need to enjoy a dream holiday.
Staying at the Elysées Campsite in Grau du Roi is an affordable way to spend a holiday in a static caravan or mobile home, especially when sharing with family or friends.  The campsite comes highly recommended, with high ratings and many positive reviews.
Escape from it all by visiting the nearby nightclubs and casino: in fact everything you need for the ultimate sun-kissed holiday for a trip to the South of France that will blow you away.
Enjoy a great holiday in the spectacular South of France, and make the most of it by choosing to stay in a campsite.
Our selection should offer something for everyone, with offers to suit all budgets.
Click on the campsite's name to access the complete range of offers and prices.
All you have to do then is complete your booking online or over the phone, using the number shown at the top right of our website.
Put your faith in our travellers and trust them to find a campsite that suits you.
Have a great holiday in the South of France with Camping-and-co!