Campsites in Hungary
Camping and co invites you to discover Hungary during your campsite stay. No matter the department - area to visit, territory and its land, or tourist area – you'll enjoy the inhabitants' warm welcome, the excellent local gastronomy and the numerous sightseeing opportunities. For your rental mobile home, we offer many quality campsites: 3-, 4- or 5-star campsites located in various regions of Hungary. Combine comfort, discovery and outdoor holidays with Camping and co!
Hungary: We recommend 1 campsite
Hide the map
×
View on map
Search in progress
Camping-and-co.com :
Easy online booking
Quality accommodation on great campsites
Credit card and paypal
Hungary > Veszprém > Balatonfüred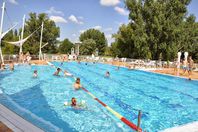 Location: In the countryside
We like: Direct access to the Balaton Lake , Just a short distance from Budapest
Services and activities: Waterslide, Swimming pool, Kids club, Supermarket / Grocery, Bar...
The summer holidays are just around the corner! This year book your perfect holiday in Hungary! The whole team at the Fured campsite looks forward in welcoming you to the area of Balatonfured....
More pictures
View on map
Compare
Add to my favorites
6 pers.
Mobile Home -29%
from

£218

£157

to 7 nights

Book

6 pers.
Mobile Home -29%
from

£218

£157

to 7 nights

Book
From
157
GBP
to
157
GBP
-
1
campsite