Rome
Welcome in Rome, the "City of God", inviting you to discover its neighbourhoods and monuments. The Vatican, the Pantheon, the Colosseum or the Palantine Hill. Make a jaunt to Italy and enjoy the sunny places full of restaurants and cafés in the City of Seven Hills, followed by exploring the Basilica of St. Paul Outside the Walls (5th century), the worldwide largest Christian building until the St. the Peter's Basilica was constructed in the 16th century. Decide upon a campsite with Camping and co and experience memorable outings in the heart of the Lazio region.
2 campsites correspond to your search
Search in progress
Camping-and-co.com :
Easy online booking
Quality accommodation on great campsites
Credit card and paypal
Location :

Less than 10 km from the sea
We like :
The beautiful beaches of Ostia Lido
The huge water area
Services and activities :
Water park, Waterslide, Swimming pool, Entertainment, Kids club...
Searching for unforgettable holidays in Italy? –Well then, this 4-star Village Fabulous is the perfect place for family and friends! Located midway between the city of Rome (15 km away) and the beaches of Lido di Ostia (8 km...
7 pers.
Mobile Home with Terrace (rates for 4 people)
from -44%

£317

£181

/ 7 nights

Book
Italy | Lazio |
Montalto di Castro
|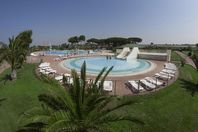 Location :

Direct access to the beach
We like :
Direct access to the beach
Campsite accessable by boat via the canal
Services and activities :
Swimming pool, Entertainment, Supermarket / Grocery, Bar, Restaurant...
The California Camping Village is the dream location for your next holidays in Italy. Just a stone's throw away from the Montalto di Castro beach in the province of Viterbe, this exceptional establishment is the ideal relaxing getaway...
6 pers.
Mobile Home with Terrace (rates for 4 people)
from -29%

£317

£226

/ 7 nights

Book